Our Boats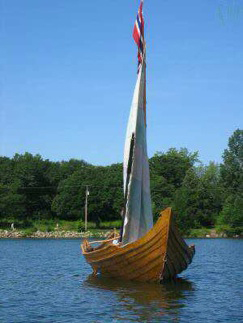 "Evening Wolf" has been exhibited as art in galleries, halls, colleges, and Scandinavian and Renaissance type festivals all over the Midwest. It has taken voyages on the Mississippi and to the Pacific Northwest. Lee Olson first built the hull in 1995 and exhibited and sailed it extensively, then in 2003 rebuilt the hull from the waterline down to create a deeper keel / draft so it would sail closer to windward. The Viking Age Club and Society - Sons of Norway bought the Evening Wolf in July of 2005.
Specifications: Length-19'-6" Beam-5'-8" Draft-18" Hull; Klinkerbuilt (Lapstrake) White Oak Planking, Ribs (sawn frames approx 36" O.C.) & Thwarts /seats. Fastenings are copper riveted by hand w/ square cut Norwegian nails & dished roves at 2"O.C. Planking is 3/8" thick & laps are sealed with wool yarn and pitched in the traditional way.
Power: Oars 4-6, Sail plan can accomodate several configurations but I use a handmade linen traditional sprit sail as it can be singlehanded - Mast can easily be stepped to the center for a Viking square sail or other. Crew; is 1 to 7 Vikings.
Steering: Traditional Steer-board hung to starboard. Weight; Approx. 500 lbs.
Historical Use: Evening Wolf would be the size of a lifeboat or reconnaissance vessel on a Viking Ship, either towed or stowed. It was also used in pre-industrial Scandinavia for coastal inshore fishing crewing 3 men for day trips. This færing or sexæring class craft (four oaring or six oaring ) was used extensively in the fjords as general light transport for the doctor or mailman to get around quickly and reliably in a road less and mountainous country.

This is a real, full size boat. This is not a replica or scaled version of anything. Like Viking Age boats and other useful handcrafted items created for daily use, this boat is an original work of art that is as functional as it is beautiful.
This page is in the process of being developed.
Lorem ipsum dolor sit amet, consectetuer adipiscing elit. Praesent aliquam, justo convallis luctus rutrum, erat nulla fermentum diam, at nonummy quam ante ac quam. Maecenas urna purus, fermentum id, molestie in, commodo porttitor, felis. Nam blandit quam ut lacus. Quisque ornare risus quis ligula. Phasellus tristique purus a augue condimentum adipiscing. Aenean sagittis. Etiam leo pede, rhoncus venenatis, tristique in, vulputate at, odio.ffffffjkjkjkjkjkjkjkjjk